Styleseller
Marketing & commerce platform where buyers voluntarily participate in brand marketing
Company Details

Companies are burdened with marketing costs. Especially, SMEs are facing difficulties even they have great quality products due to the cost of promoting and exposing their products to the market. Until now, the buyer was simply categorized as a buyer of goods. Due to the development of mobile phone technology, everyone can take beautiful pictures and videos of high quality and create their own personal marketing channels to promote on their Social Media. Buyers can now take pictures of their purchases and post them to Social media which can have a significant impact on prospective buyers.
StyleSeller is a marketing plus commerce platform in which buyers voluntarily participate in brand marketing so that the products of the company spread out simultaneously. At the same time, buyers can create new value (revenue) from their purchased product. We create a 0-marketing market through linking buyers and brands. After successfully connecting Korean brands (diet foods, fashions, accessories, etc) to Korean consumers, we are now planning to bring Korean cosmetics brands to the global market where the Korean wave is popular such as in Southeast Asia. We focus on Korean culture fans in these markets to sell products through them.
Our team is passionate about bringing this business model to the global market.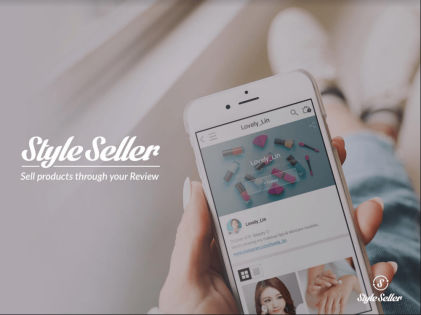 You might also be interested in
No Offer, Solicitation, Advice, or Recommendation
Except to the extent expressly set forth in materials as may be provided through a password protected area on the SOSV website (the "Materials"), or as otherwise expressly specified by SOSV in writing, nothing on the SOSV website or on any platform or other communications medium owned, operated or otherwise by or on behalf of SOSV, is intended to constitute (i) an offer, or solicitation of an offer, to purchase or sell any security, other asset or service, (ii) investment advice or an offer to provide such advice, or (iii) a basis for making any investment decision. Except as expressly stated by SOSV in writing, neither the SOSV website or any platform or other communications medium owned, operated or otherwise by or on behalf of SOSV, nor any of the Materials make any effort to present a comprehensive or balanced description of SOSV or its investment activities. Please note the SOSV Communication Policy available here.